Logistics planning: eliminating bottlenecks, creating transparency and efficiency
Today, logistics is an essential factor when it comes to achieving company goals to optimize cost-effectiveness and competitive strength. Immense gains are possible here in terms of transparency, flexibility, and (of course) speed. A sound understanding of the overall process as well as substantial industry knowledge is needed in order to evaluate, develop, and provide individual solutions. Many SMEs and corporations around the world benefit from our considerable project experience combined with our involvement in various research projects. After all, Ingenics has followed the approach of focusing on solutions and their implementation at the same time for decades.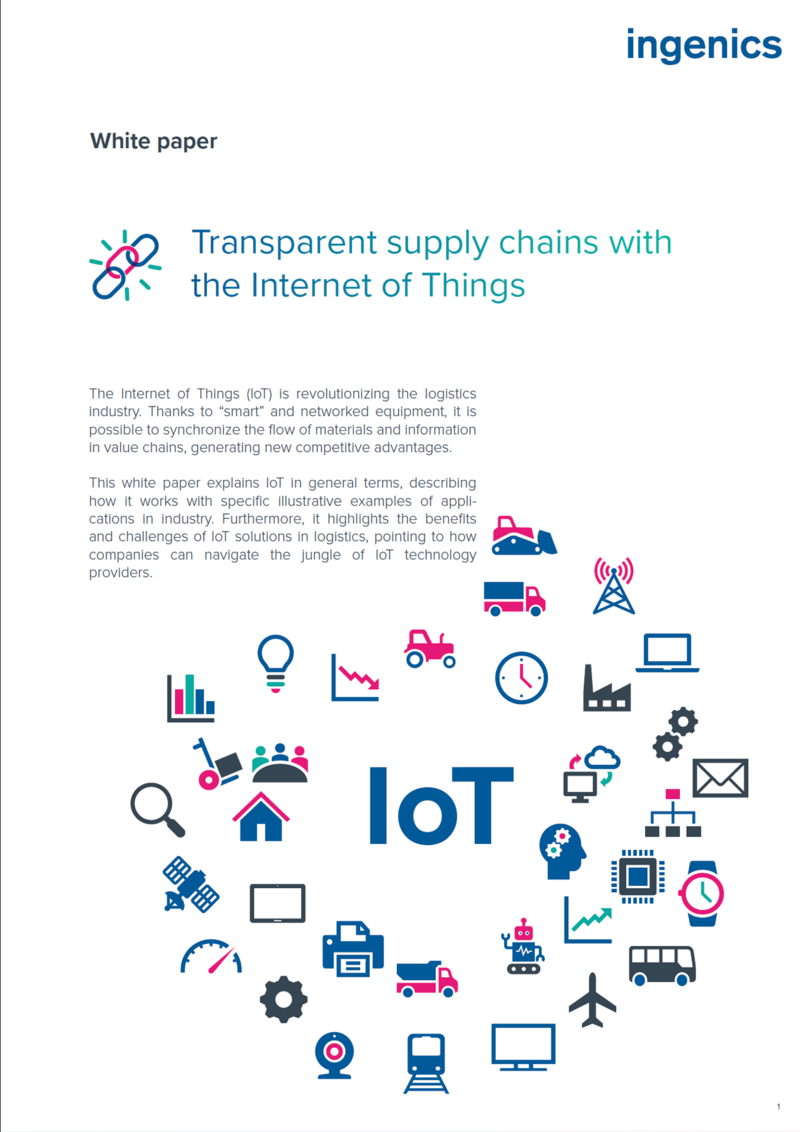 White paper
Transparent supply chains with the Internet of Things
The Internet of Things (IoT) is revolutionizing the logistics industry. Thanks to "smart" and networked equipment, it is possible to synchronize the flow of materials and information in value chains. In our white paper, we describe the possibilities of IoT for logistics and how you can navigate the jungle of IoT technology.
Download
A deep understanding of processes and a wide range of solutions
Strategic decisions in logistics planning are based on fundamental criteria such as site selection and master planning, but they also require expertise in identifying the right levers to optimize logistics processes. If a logistics center is bursting at the seams, experience is needed to remedy the situation quickly. At the same time, foresight is required to prevent the same weaknesses from reappearing in the future. In the age of global value chains, it is more important than ever before to improve material flows, storage capacities, and logistics concepts in order to achieve the highest possible degree of efficiency. Only with a holistic view of the overall system can the best strategic direction be guaranteed and potential in the respective area identified.
Holistic logistics planning down to every last detail
With projects in logistics planning, we understand the importance of high-level planning from concept to realization. We are familiar with company processes and the particular requirements in a wide range of industries. For that reason, we also know exactly where the sticking points are that need to be tackled. Our interdisciplinary teams offer broad technical expertise and a holistic way of thinking, working with on-site specialists on equal terms. Only through such cooperation is it possible to improve planning in terms of capacity, storage, supply, and material flows while optimizing warehouse space. It is not necessarily about what is technically possible, but predominantly what is financially sensible. From the initial concept and broad planning to detailed planning, implementation, and the use of innovative technologies, we pull together with our clients. For example, warehouse technology planning involves the strategic selection of warehouse technologies and their use, which must be worthwhile in the long term.
Logistics 4.0 – from greater transparency to more efficiency
The digital transformation of logistics involves implementing cutting-edge technologies on the one hand, but the balance must be right in terms of using such solutions for a specific purpose and embedding them in existing structures. From automatic goods receipt, self-driving vehicles, and RFID to smart containers and swarm intelligence, the strategic use of technological developments is always based on a thorough cost–benefit analysis. Likewise, digital solutions can be put in place to strengthen critical areas of logistics in a very economical way, rendering them more efficient. One approach that is effective and quick to implement is business intelligence: uncovering existing data that is not being processed and making it useful. This can provide an overview that makes it possible to optimize logistics control. By introducing our Intralogistics Cockpit 4.0, for example, companies can glean a wealth of data and display it on a single platform – for greater transparency and efficiency across the board.
More interesting logistics topics