Aviation: Consulting for the New Era of Aviation
Aviation has overcome the low point it experienced in 2020, and planeloads and airport traffic have been rising for some time now. Moreover, original equipment manufacturers (OEMs) are increasing their production rates consistently and sustainably again, heading back toward their precrisis levels.
What initially seemed to be a slow recovery for aviation operations is developing more and more into an unexpected and sustained leap in demand, which leaves airlines and airports facing major challenges. Thousands of canceled flights, enormous delays, and chaos processing passengers and luggage are the results all around the world.
The entire aviation industry – from manufacturers and airports through to the airlines – is continuing to navigate a storm that involves major risks for it if it does not implement new strategies, processes, and methods. As aviation consultants, we support these companies in boosting their performance and in planning and realizing solutions in core areas such as operations, quality management, supply-chain management, and sustainability.

Aerospace Is Transforming
The impacts of the global COVID-19 pandemic and the sudden recovery will result in lasting changes for the aviation industry. This is made all the clearer when considering several key issues that aerospace businesses will need to get a handle on as the industry ramps up again:
Human Resources
Many companies across the supply chain were forced to shed one-fourth, and some even one-half of their workforce during the crisis, even after shortening their employees' working hours. As a result, many brilliantly trained specialist staff switched to other industries and that means the pool of applicants for positions in the aerospace industry has grown smaller.
Ramp Up & Delivery Performance
The entire commercial-aviation supply chain is preparing for a massive ramp up, especially for single-aisle products. While production rates are currently still manageable for many businesses, we are already witnessing large problems in relation to quality and material availability on both sides of the Atlantic.
Supply Chain
To safeguard business survival and liquidity during the pandemic, many aviation companies applied strict cash containment measures. Warehouse inventories were therefore drastically slashed and safety stock reduced to zero. Uncertain forecasts from OEMs as well as a lack of transparency across the supply chain (the bullwhip effect) were also negative influences on the entire supply chain. These factors make the planned ramp up more difficult and lead to further uncertainty. Furthermore, it was also impossible to predict that only very limited amounts of raw materials would be available in 2021/2022. As a result, there is uncertainty regarding planning and whether delivery dates will be met, and there are also price rises.
Sustainability Becoming an Entrepreneurial Responsibility
In addition to these crisis-related issues, the industry is also being forced to reduce its carbon footprint massively by legal requirements (e.g., the German federal government's Supply Chain Due Diligence Act) as well as societal pressure. This raises completely new sorts of questions for managers and leaders:
How can aerospace be made sustainable and how can zero-emissions flight be made a reality?
What components make industrial systems sustainable and futureproof?
What are the features of a global strategy for carbon emissions in supply chains?
How are modern leadership principles practiced sustainably?
Zero-Emission Flight
OEMs are currently strongly pushing their vision of developing a zero-emissions aircraft and putting it in service by 2035. This transformation (including the infrastructure to go with it) will be the main influence on the industry over the next decade. It demands a variety of new solutions, including in relation to production networks and factory structures. Hydrogen will be a key technology for this process. Synthetic aviation fuel, a climate-friendly alternative to fossil-based jet fuel, will be a crucial bridging technology.
Aerospace Businesses Must Invest in Their Future
As a corporate consulting firm, we are currently seeing rapid growth in many segments of the aerospace industry. For instance, companies are continuing to invest large amounts in up-and-coming technologies such as hydrogen and autonomous, zero-emissions flight.
These organizations have identified how important it is to pave the way for the next generation of aerospace manufacturing. It demands, among other things, using technologies to increase efficiency and quality and giving employees more time for developing strategies and solutions for better business results.
OEMs and suppliers simultaneously need to pull off a balancing act in acting for the short term, medium term, and long term when they consume their resources. Firstly, they must master their planned ramp up in difficult conditions. Secondly, they absolutely cannot lose track of future-oriented topics such as sustainability and future aircraft generations.
In our view, there are currently four main areas of action that OEMs and suppliers in the aerospace industry need to focus on:
Material availability (supplier development, ramp up management, efficiency increase)
Quality management (quality planning in advance)
Competitiveness (benchmarks in production and logistics)
Material Availability – Grow without Growing
Layoffs in the aviation industry mean that businesses are compelled to master the ramp up of their production in stretched staffing conditions without recruiting any significant numbers of employees ("growth without growing"). They have to do this in an environment where many are already struggling with low material availability (which is part of recovery management). Their ramp up management also faces heavy cost pressures, and these pressures are accompanied by strict quality requirements.
The solution for this complex situation is operational excellence. In our experience, efficiency increases are the primary tool for sustainable "growth without growing." As a consulting firm, we concentrate on the following influencing factors for this:
Production (process optimization through a classic lean approach with a focus on the value stream & adding value/coaching new managers and employees)
Logistics & supply chain (stabilizing & optimizing stock levels despite uncertain forecast data/safeguarding material availability & ability to deliver)
Administration (business process management for end-to-end business process optimization)
Process transparency (KPI tracking using digital tools)
Quality Management – Implementing Standards Effectively
Many OEMs currently have made it their top priority to ensure product quality. This impacts the requirements that they have of their suppliers. Methodical quality planning using advanced product quality planning (APQP), for example, is increasingly developing into the standard for the aerospace industry. Every supplier involved in a development project must meet it.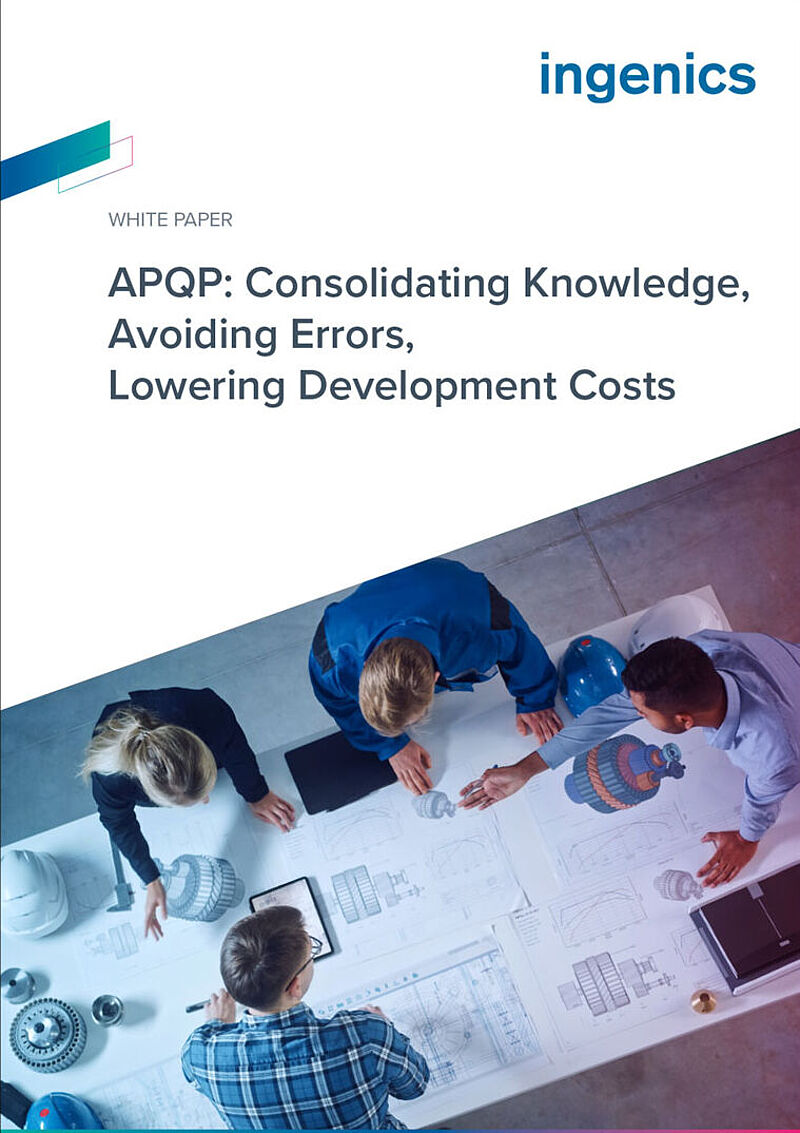 White paper
APQP: Consolidating Knowledge, Avoiding Errors, Lowering Development Costs
Advanced product-quality planning (APQP) is a systematic methodology for planning quality ahead of time. The methodology creates a product-quality plan that you can use to develop your products faster, more cost-effectively, and more reliably. The knowledge and experience ("lessons learned") from all relevant departments are consolidated into one pool to close off sources of errors and lower development costs. It usually does not require any elaborate implementation process. Instead, all it needs are isolated adjustments that, in our experience, pay off very quickly.
Download
Competitiveness – Renewing a Strategic Foundation
To stay competitive now and in the future, aerospace businesses must question fundamental ideas. How can they distinguish themselves from their competitors? What does their ideal operating model look like? What measures and instruments do they need to achieve the industry benchmarks in logistics and production? How can they permanently lower their production costs and set themselves up strategically for new aircraft developments in the future?
Answering questions like these requires doing work beforehand. At Ingenics, our method for management consulting is to develop a strategic footprint. In this three-step process, we analyze our client's situation from three perspectives:
Plan assessments (efficiency)
Works environment (effectiveness)
Development of a vision (strategic future)
Sustainability – Making Aviation Carbon-Neutral
The ambitious climate targets that have been legislated mean that businesses in the aerospace industry need to make their production and products as free of emissions as possible (with green aircraft). This demands a sustainable transformation that fundamentally reconsiders proven approaches and concepts.
The industry's transformation toward carbon neutrality requires a comprehensive examination of its end-to-end processes. Companies need to analyze not only their product, but also their entire production process. Our consultants concentrate on three elements for this:
Sustainable supply chain
Sustainable products
Projects in which we help clients to decarbonize always begin with an analysis of the status quo. We then prepare an individual package of measures (e.g., for existing or new sites) and progressively implement these measures in conjunction with the client. If necessary, we draw on the expertise of our partners for this (e.g., for matters related to digital transformation). We act as a moderator for the integration of all work streams that are needed to achieve the transition into a zero-emissions company.
Ingenics: Consulting for Aerospace Businesses
Aviation is currently facing a wide variety of challenges, and some of them are still completely new and unfamiliar. As aviation consultants, we provide advice and support to businesses for all fields, whether it is production, logistics, digitalization, supply chain management, or sustainability.
Based on our many years' experience in consulting for the aerospace industry, we can develop fast, pragmatic solutions that produce success and improvements in just a short space of time. Businesses simultaneously benefit from benchmarking approaches which our consulting team can transfer to aviation from other industries. This combination has proven itself in practice for OEMs and aviation suppliers across the world.
FAQ
Why Plan Quality in Advance?
In Europe in particular, there are strict statutory specifications regarding the development, production, and maintenance of aerospace products. They include diligent quality planning that is done in advance to rule out risks and errors during the product creation process. The EU and EASA, for instance, require aviation suppliers to use throughout their entire organization an internal quality system that can control and monitor the functionality of the value-adding process in relation to quality factors.
What Is Advanced Product Quality Planning?
Advanced product quality planning (APQP) is a systematic approach for planning quality in advance. It consolidates a large number of measures in one product quality plan which brings together knowledge and experience (lessons learned) from different departments. Building on it, businesses can patch up sources of errors and reduce their development costs.