Sustainably increasing efficiencies in the aviation industry
Increasing efficiency is one of the key levers for securing business models in the aviation supply industry.
Increasing efficiency is a key lever when it comes to securing business models in the aviation supply industry. This is because improved efficiency ensures that companies are competitive while creating room to maneuver for the future.

Ingenics AG works with its clients to answer the questions this raises for business:
How is it possible to guarantee the delivery times agreed by OEMs? What are the consequences of deviations for the supplier?
How does ramping up the production rate affect the supplier? In what areas can action be taken?
How severe is cost pressure for suppliers in the aerospace industry? What options can be found to optimize costs and increase margins?
What is the right digitization strategy in the context of discussions about digital transformation? What should the digital architecture and value stream design look like in order to identify gaps in information and how to remedy them? How can production and warehouses/logistics benefit from the use of a digital twin?
PNAA Advance 2023, February 6-9, 2023
As a member of the Pacific Northwest Aerospace Alliance we are looking forward to this year's PNAA Advance 2023 aerospace conference in Seattle from February 6 to 9.
You can find us here: BOOTH 11 (Lower Saxony Aviation)
With many years of industry expertise, Ingenics has identified three key areas of action for companies:
1. Increase delivery efficiency in the aviation industry
In day-to-day business, delivery efficiency is a key performance indicator (KPI) for operational success. Deviations from the delivery times agreed with an OEM have a negative impact on a supplier's rating. Furthermore, these deviations cost money in the form of additional internal expenses or penalties. It is an area of concern that often requires attention!
Ingenics AG has demonstrated a pragmatic, solution-oriented approach in numerous projects on this front. Weaknesses are identified in an organizational assessment that includes an analysis of the supply chain as well as manufacturing and delivery processes.
In addition to supply chain management, the organization of production plays a central role – especially production planning. Areas of particular focus are plant efficiency (KPI: overall equipment efficiency) and line balancing, which aims to reduce cycle times and to secure the critical path without any compromises.
Such improvements result in greater delivery efficiency and more stable processes. For Ingenics, a priority is the employees involved in addition to the actual optimization of business and production processes.
Optimization measures result in valid, robust processes that reveal significant improvements in delivery efficiency as a KPI. If required, the client can also use the Ingenics Intralogistics Cockpit 4.0 to bring together the end-to-end monitoring, analysis, and control of intralogistics processes.
APQP is a structured approach that combines a variety of proven measures and methods for advance quality planning.
Originally developed in the automotive industry, it is now also used in the medical technology sector.
If you want to know more about this topic, our whitepaper on the subject will help you as a first step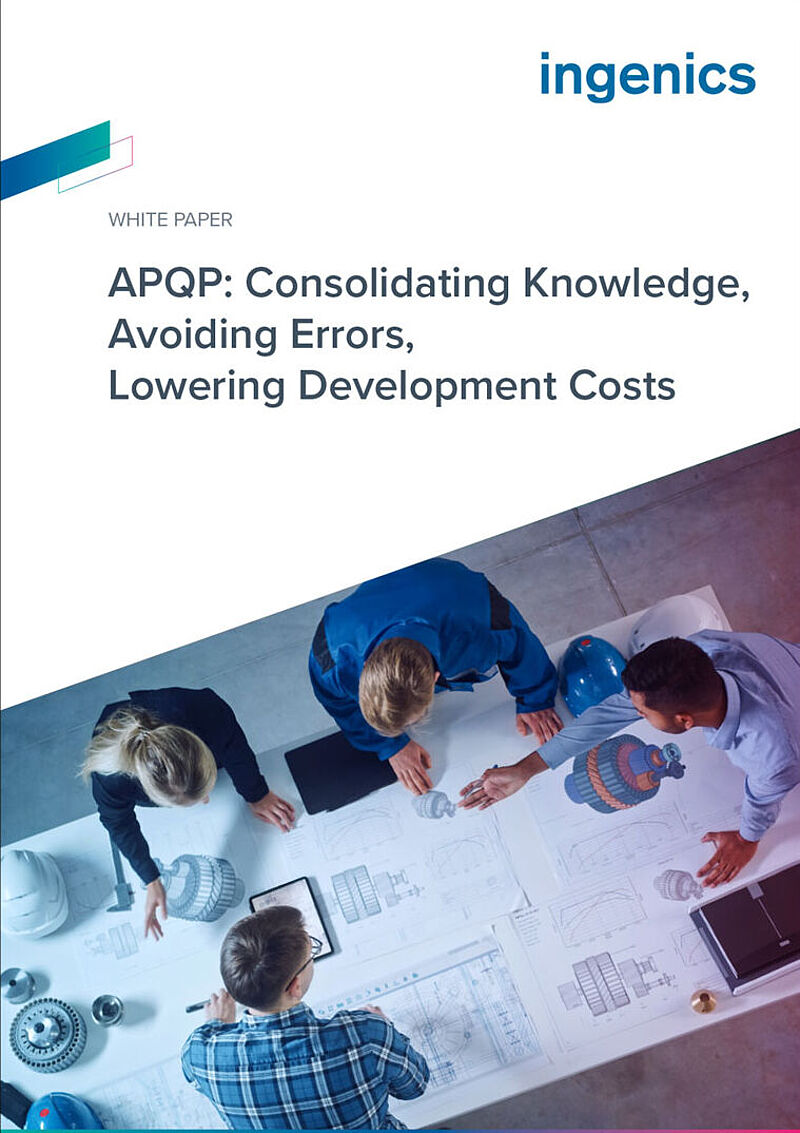 White paper
APQP: Consolidating Knowledge, Avoiding Errors, Lowering Development Costs
Advanced product-quality planning (APQP) is a systematic methodology for planning quality ahead of time. The methodology creates a product-quality plan that you can use to develop your products faster, more cost-effectively, and more reliably. The knowledge and experience ("lessons learned") from all relevant departments are consolidated into one pool to close off sources of errors and lower development costs. It usually does not require any elaborate implementation process. Instead, all it needs are isolated adjustments that, in our experience, pay off very quickly.
Download
2. Reducing cycle times
Cycle times of assemblies and components are another important consideration for suppliers to the aviation industry because large volumes of stock tie up capital and direct attention away from the actual problems at hand. Good stability and a high level of efficiency with respect to cycle times are guarantees that companies can actually meet the delivery efficiency targets described above. Additionally, shorter turnaround times offer a competitive advantage when it comes to positioning a business as a high-performance, flexible partner for customers.
Drawing on their extensive industry experience, the consultants at Ingenics AG work quickly and reliably to identify relevant processes and to identify potential improvements with regard to cycle times.
Using methods such as value stream analysis and strategic process design, they check all the influential factors and simulate process variants before testing and establishing them in the company. The factory layout is optimized and the supply chain management system adapted accordingly. The team is trained so that a collective effort can be made to safeguard changes, helping them to remain stable in the future.
Again, the result is a robust and efficient overall process. At the same time, any necessary adjustments to production technologies, manpower, and IT systems resulting from the optimized process are defined and implemented. If required, the client uses the Ingenics Production Cockpit 4.0, which noticeably reduces the everyday workload for operational managers thanks to end-to-end monitoring.
3. Reducing component costs (recurring costs)
A typical challenge in the industry are regular discrepancies between the technical and financial predictions made during the quotation phase and the actual costs that later emerge when designing and manufacturing components.
Competitive component costs are of considerable importance in the aerospace supply industry for the completion of existing contracts as well as pitches for new orders. For OEMs themselves, this is also an issue of central importance. Changes in component costs to the detriment of a supplier can seriously call into question any price estimates and the relative success of a component.
Keeping tight control of recurring costs is another success factor when it comes to maintaining a market share in the face of global competition and continuing to protect margins.
In order to examine component costs and identify potential savings, Ingenics analyzes the relevant areas of purchasing as well as internal value creation and logistics, identifying areas of cost efficiency, which are then implemented in collaboration with the client to ensure continued stability in the future. Furthermore, the development and design process is optimized in terms of target costing (design-to-cost approach), making it possible to make informed "make or buy" decisions as soon as possible.
The client benefits from potential reduced costs as well as an established early warning process that tracks component costs and their trends, evaluating deviations and signaling possible courses of action.
Component margins are greater as a result, thus ensuring that offers and orders remain competitive in the future. An associated operational excellence management program guarantees that these cost advantages also apply for future developments.
4. Tailored digital transformation for every company
There are many possible courses of action open to aviation suppliers in terms of revolutionizing the company and processes in a beneficial way thanks to the digital transformation. Whether the supplier's business is systems, cabins, engines, or structural engineering, the key question is always what individual digitization strategy is right for the company in question.
In this area, the customer-specific approach of Ingenics AG once again comes to the fore. Starting with an initial assessment of processes and IT systems, the perspective always focuses on the entire company, including all departments and the supply chain or customers – as reflected in the master plan. The right digital architecture is determined in close discussion with the client, based on the corporate strategy.
Ingenics AG sees itself as a digital architect who, together with the client, steers development of the corporate architecture. For aviation suppliers, making use of digital potential means the intelligent networking of all players to create sufficient transparency and process information in real time. It is a question of addressing the stages of OEM as well as system, component, and part suppliers across all relevant tiers. A value stream design identifies gaps in the information flow and sets out how to remedy these.
Possible approaches include Assembly/Production 4.0 (linking data and information structures of previously separate areas) and various uses of a digital twin (the digital image of corporate divisions for planning and simulation) in production, warehousing, and logistics.
The implementation support provided by Ingenics AG focuses on two areas that experience has shown to be crucial: priorities defined with the company with regard to making realistic changes alongside day-to-day business and the close involvement of employees. Both areas have a significant impact on the nature of support provided and ensure long-term success.
Collaboration allows aviation suppliers to achieve a highly agile process structure and a supply chain that provides information in real time. These can also be adapted quickly using specific triggers. The basis for such flexibility and responsiveness are vertically and horizontally integrated IT systems.
You can find out more information under the heading "Digital Transformation and Industry 4.0."
Ingenics offers its services as a professional sparring partner to companies in the aerospace supply industry, helping them to address the issues mentioned above in a cooperative manner. The consultants at Ingenics have extensive industry experience and a wide knowledge of methods, all of which allows them to tailor their services to suit the demands of individual client projects.
The consultants at Ingenics have methodological expertise and international industry experience in the field of aviation consulting. Together with the companies in the aviation supply industry, they approach the fields of action addressed above in a spirit of partnership and with great expertise in order to develop the best solution individually.