Supplier management – how to raise your supplier relationships to the next level
Effective, lean, flexible, efficient

Manufacturing companies depend more than ever before on the performance of their suppliers. When it comes to supplier management, however, they often struggle with difficulties concerning the quality of their processes and products as well as compliance with quality standards such as ISO 9001 and IATF 16949. It is therefore important that manufacturing companies create clear structures and gain full control over supplier management. They must focus on fact-based relationship management, with a clear relationship between requirements and the professional skills or technological expertise of each supplier. In times of digitization and e-mobility, supply chain management needs to be taken in a new direction to ensure optimal links and networking in the supplier network.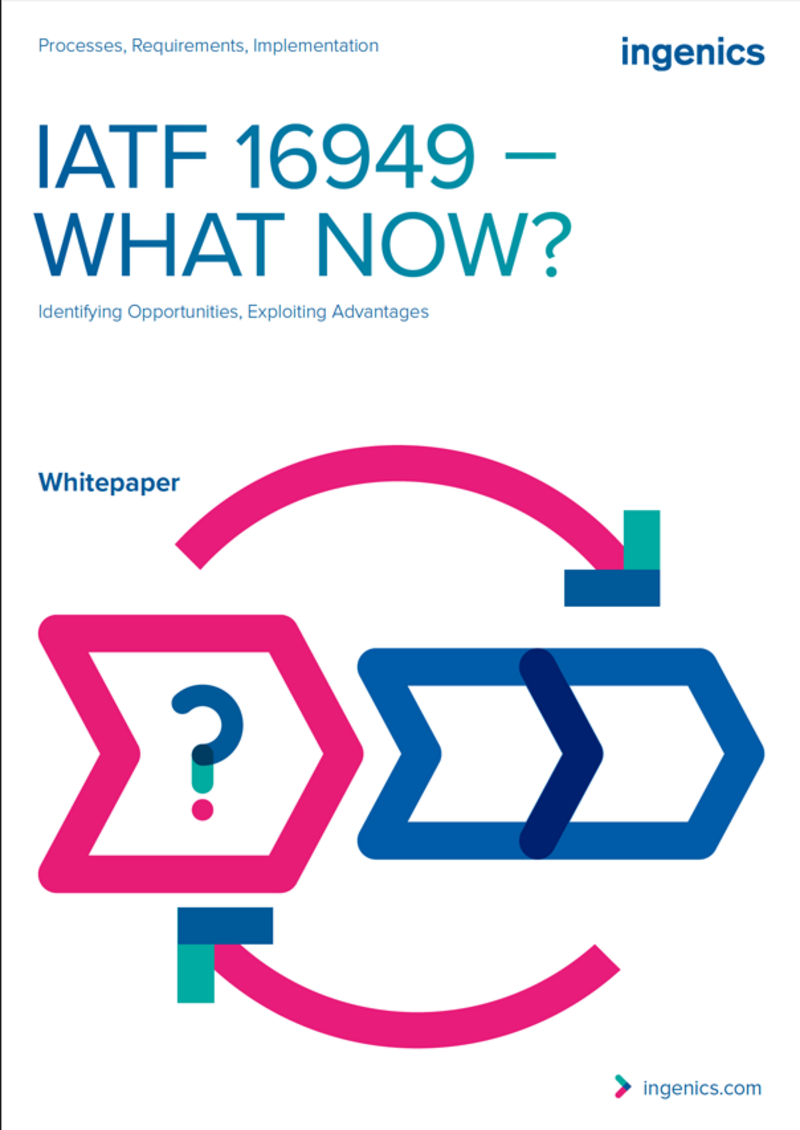 White paper
IATF 16949 – What Now? Identifying Opportunities, Exploiting Advantages
A well-structured supplier management is of great value especially in the automotive industry. Especially since the new quality management standard IATF 16949 makes such a supplier management mandatory. In our White Paper "IATF 16949 – What now? Identifying Opportunities, Exploiting Advantages" we explain how you can restructure your processes in accordance with IATF and thereby generate new opportunities for your company. Using the example of supplier management and total productive maintenance, you will learn how to implement the IATF specifications.
Download
Key processes in supplier management
Managing suppliers is a key skill when it comes to successful company management. The technical complexity of new products calls for a large number of partners who can offer specific knowledge as well as the advantages of their specific location and their purchasing power to enable networked development and production, supported by the pursuit of shared company goals. In cooperation with suitable partners in the value chain, companies can harness the innovative strength of the market and optimize procurement costs.
Challenges of supplier management in the automotive industry
This is all easier said than done, of course. In practice, companies of all sizes face a variety of challenges, including inadequate supplier reliability, misunderstandings between clients and customers, and the high costs associated with redrafting work and handling complaints. This represents a difficult starting position for success in competitive markets.
Many companies are not aware that they themselves contribute to the root causes of these problems. After all, most challenges can be traced back to communication problems and a lack of transparency when customers come into contact with suppliers. The result is inefficient processes with a direct impact on procurement – and thus the quality of the manufactured products.
That is why it is important to raise the quality of your supplier relationships to a new level. We can support you in the following areas:
Strategy
Introducing a company-wide supplier management program
Benchmarking supplier businesses and production locations
Developing and introducing globally integrated management systems
Transparent, preventive risk management based on intelligent networking of the supplier structure
Selecting and qualifying suppliers along the value chain
Supporting and carrying out supplier analysis (supplier identification, evaluation, and selection)
Performing structured assessments and audits, evaluating potential, e.g. IATF 16949, VDA 6.3, ISO 9001, EN 9100, EN 1090
Developing qualification and learning modules as well as providing training
Rapid company maturity management tailored to specific suppliers, including direction and control of product and process approval in order to incorporate developments and technologies in the supply chain more quickly
Supplier development measures in the project and series process
Supporting and safeguarding quality requirements in the product creation and development process
Quality and efficiency improvement measures on the shop floor
Supporting and optimizing the error handling process, change management, the complaints process, and the warranty process
Task force and project management
A rapid response team with structured task force management on-site
Interim management, including coaching management staff in quality
Structured project management for a holistic, sustainable solution
Standardized dashboards and real-time data collection to improve transparency and to support predictive analysis of supply chain issues